Amazon Brand
44% vs 82%: Ampd Reduced this Brand's ACOS in 30 Days
Background
This Amazon brand started using Ampd to send traffic directly to their Product listing. After 30 days they saw an ACOS of around 100%. The product had variations and the brand sold similar products, so they decided to test sending traffic to their Amazon Storefront to provide shoppers more buying options and insulate the Google traffic from competition seen on their product listing.

Due to the sophisticated way Ampd sets up Amazon Attribution tags, Ampd customers can send Google traffic to their storefronts and Ampd will be able to attribute conversions on any product they purchase from the store front.

This brand set up an Ampd campaign for an individual product and then changed the final destination URL inside of Ampd to a category page on their store front, making sure their ad copy and Google keywords described and aligned with the products on their category page.
Storefront Setup
For best success running a storefront campaigns, it is best to use a category page using a "Product Grid" template that has the "add to cart" buttons, so customers can see all your products and easily add them to their cart.

If you have a coupon on a product, Amazon will not allow you to have an "add to cart" button, but instead the customer will see a "see buying options" button. We recommend not having coupons on these products as this will require the customer to go to the product listing where they could be distracted by your competition's products.

When setting up the category page using Product Grid, you will need to add products by select "manually, by entering a list" as seen in the screen shot. This ensures attribution works accurately.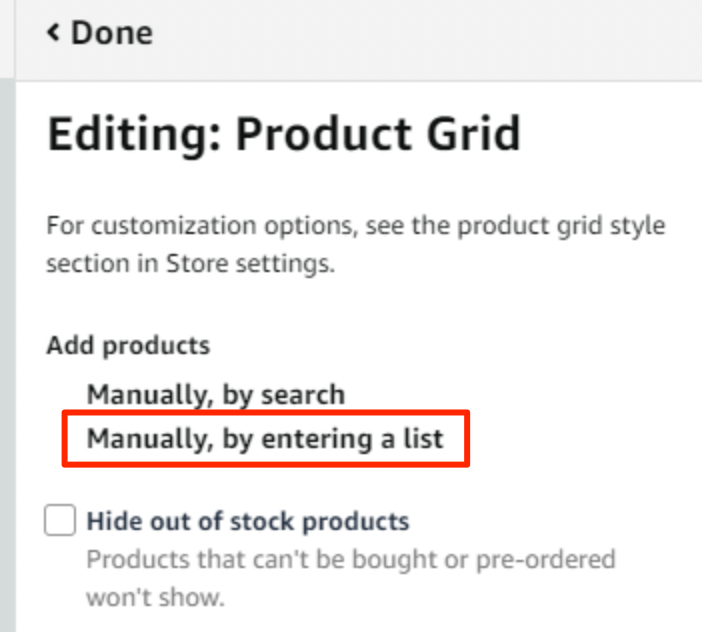 The Results
With Ampd's unique ability to track conversions on all of the brand's products, the brand was able to A/B test a storefront campaign for the category against a product listing campaign.
Over the next 30 days, the storefront campaign produced a 44% ACOS outperforming the product listing campaign which had a 82% ACOS.

Grow Your Brands Followers
An additional value this brand was able to capitalize on was an increase in the number of followers. As Amazon provides customer data for those that follow the brand, this brand is now able to contact and resell these customers.

Pro tip: Add an arrow to your banner image telling people to follow your brand (as seen below).

Want to unlock external traffic for your brand?
Sign up for Ampd, or book a demo!