Automated, Optimized, Google Ads to Amazon
Ampd will help you:
Unlock Google ads to Amazon as a new, successful, marketing channel for your clients
Automate Amazon Attribution and tracking, both at the keyword and product level
Boost your clients' overall ranking inside of Amazon through higher organic search traffic
Your Google Ads to Amazon Partner
Ampd is the industry leader in bringing Google shoppers to Amazon. We open the door to a new revenue stream and strategy for brands, outside of traditional Amazon Ads.
Amazon's Premier Attribution Partner and finalist for Amazon's Scaled Technology Award - US 2022
Earn Up to a $500 Google Ads credit for each brand
Report and optimize the impact Google has on your Amazon sales, together in an easy to read UI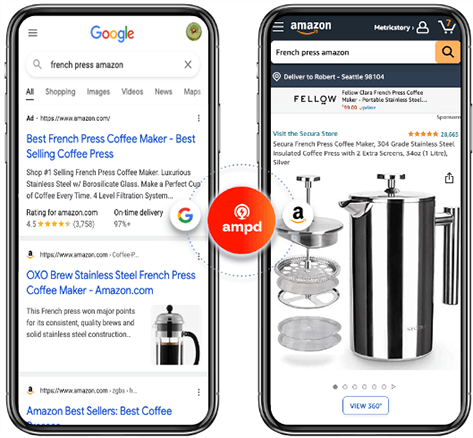 Case Study
Ampd and Tinuiti Team Up To Unlock Google Ads To Amazon
Their goal was to be able to move their client's advertising to the next level by:
Tapping into the billions of Google searches happening each day
Monitoring brand rank, adds to cart, and ACOS
Delivering in-depth, accurate reporting to their clients
The Support Your Agency Needs to Succeed
With Ampd at your side, you can help your client get more traffic and sales through Google ads to Amazon. Your Ampd Agency Expert will support you every step of the way.

Onboarding
Private onboarding meeting with Ampd's agency-focused team

Advice on which products will give you the best ROI, as well as how to speak to brands about external traffic as a source

Support
Instructional videos that show you how to deliver outstanding ads results

A complimentary 60-day campaign optimization review by Ampd experts

Acceleration
Expert advice on how you can grow and scale ads even more

Ampd Certification to help you get top performance and find more new customers
Let us help you demonstrate unmatched ROI for your clients.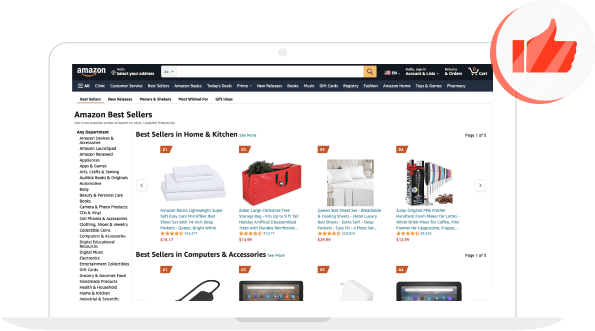 Scaling your Agencies External Ads Offering with Ampd
Integrate Ampd into your existing services
Increase Lifetime Value (LTV) of your Customers
Target Impressions & Top of Funnel Google Searches, with Amazon buying Intent
Introduce omnichannel marketing for established brands that are advertising already on both platforms
What ACOS can we expect and what types of ACOS are typically seeing on Google vs Amazon?
Without historical data it's impossible to predict future performance, so we try and stay away from predicting what ACOS you will see, if you have not advertised Google to Amazon before. Once we go through our 3 month test, we will then be able to answer this question with certainty.
The range depends on the Product you are advertising. We have seen ACOS as low as 1%, but we have also seen campaigns with much higher ACOS 300% and higher lead to significant rank impacts and what amazon calls the "Snowball effect" from sending in external traffic.
ACOS is simply a leading indicator and the true ROI is ACOS + BRB + snowball effect and ranking.
When comparing Google to Amazon at an ACOS level, often Amazon produces the lower ACOS as it should be your first channel. Google is an omnichannel brand strategy and an important part in growing your brand beyond just relying on Amazon Ads. If your only advertising channel is Amazon Ads, you can be severely limiting your growth potential and valuation as a brand.
How do I measure or see Ampd's impact on ranking?
The impact of ranking is often felt over time as Google Ads is not a quick hack, but a brand growing strategy. Many brands feel the impact over time in a rising tide lifts all boats scenario, but the best way to really measure the impact is to combine your Google Data with your TaCOS analysis. Most of our brands will compare TaCOS from before turning on Google Ads and then after. For example, if you have a 10% TaCOS, then after adding Google for 3 months you're seeing more sales and TaCOS is still at 10% that is a good sign that you have efficiently and effectively added a marketing channel.
The Ampd Ads Platform does not analyze your on Amazon Data since we don't have insight into your seasonality, other marketing initiatives and the other variables that impact ranking, but we do support data exports so our brands can easily export Google Data and include it into their TaCOS analysis!
How long does it typically take for my clients to see results from Google Ads to Amazon?
It takes about 3 months. First month we are testing a bunch of things and you will always see a higher ACOS, month two we are starting to hone in on the best results and month 3 we should have a clear understanding of the impact Google can have on your products.
From a rank perspective, Brands usually start to see the impact around months 2-3 and once ad spend has been scaled up to be ~10% of Amazon ad spend.
What do you recommend as a starting minimum Ad budget for Google Ads to Amazon?
At a minimum, we recommend a budget of $15/day per Product. With that said, a more strategic perspective is to target 100 clicks per day x average CPC x 30 days. Targeting 100 clicks per day, gives us a robust data set from which to make informed optimizations decisions and aids us in getting to directional guidance if Google Ads is driving positive impact within 90-days. Lower budgets take longer to validate impact. For example, 100 clicks per day x $1.00 avg CPC x 30 day is a recommended starting Ad budget of $3,000/mo. Consult with your Ampd Sales Rep or Ampd Pro Data Strategist for additional guidance.
How do I become an Ampd Certified Agency and how do I got about training my team to use Ampd Starter or Ampd Scale on a self-serve basis?
Go to www.ampd.io/agencies and fill out the Contact Us webform to and learn how to scale and optimize external ads to Amazon for all your clients.

As an Ampd Certified Agency, you'll be able to expand the services you offer your clients and amplify external ads to Amazon with full attribution.
Do you support other channels, like Tik Tok, Facebook or Walmart?
Ampd is the planet's best solution for Google Ads to Amazon. We are the only Google First platform to Amazon and will continue to execute to keep this title. We are working weekly hand in hand with the Amazon Attribution Product team and as soon as TikTok and FB are primetime ready we will be adding those to our EaaS platform (Ampd).
Walmart has approached us to pilot an Ampd solution for Walmart and we are in conversation with them about getting the pilot off the ground early 2023.
Why is it important to prequalify clients for Google Ads to Ampd and how do you recommend I go about it?
It is vitally important to us that Agencies and their Clients are happy with Ampd. Maintaining Agency to Client trust is paramount. One of the ways we recommend maintaining a strong relationship with your clients is to prequalify potential Ampd User and assess their probability for a successful outcome.
If in the event, there are red flags (Ad policy blockers), low monthly keyword search volume, prohibitive CPCs, etc... we beleive it's better for Agencies to have that conversation upfront with your client vs. having an unsatisfactory conversation later after time and resources have been invested in the Google Ads to Amazon marketing channel.
Please reach out to your Ampd Pro Data Strategist or member of the Ampd Sales team for additional insights and resources available to help you prequalify prospective clients.
Enroll now
Interested in becoming certified?
Ampd empowers leading Agencies to unlock Google Ads and drive growth to their clients.
Reach out to us today to see if you qualify to access Ampd's private agency portal, pass Ampd's certification test, and start finding new customers and drive Amazon's rank with Google Ads.