Agency Partnership
Ampd and Tinuiti Teamed Up to Increase a Brand's Revenue by 84%
What is Ampd?
Ampd is a Google Ads to Amazon platform that enables Google Ads experts to effectively run Google Ads to Amazon campaigns, with automated keyword-level Amazon Attribution data
Ampd's proprietary technology is designed to help Amazon sellers build effective Google Ads campaigns that are tailored to their specific products. By connecting Google Ads data with Amazon sales data, Ampd is able to provide sellers with valuable insights into which Google Ads clicks/keywords are driving "add to carts" and which are leading to "conversions" and "revenue" directly on Amazon.
By providing this level of visibility and analysis, Ampd's technology can help sellers optimize their Google Ads to Amazon campaigns and improve their overall channel performance. This approach can be particularly valuable for sellers who are looking to expand their reach beyond Amazon PPC and drive external traffic to their product listing and storefront pages on Amazon.
Goals with External Traffic To Amazon
It's important for Amazon sellers to set realistic ACOS (Advertising Cost of Sales) goals when launching Google Ads campaigns, as these ads can provide an effective supplemental source of revenue beyond Amazon Ads. While AACOS from Google may not beat ACOS on Amazon, it can still effectively fill the funnel and drive growth for Amazon Sellers.
Ampd builds off Amazon Attribution and provides keyword-level data which can help sellers optimize their off-advertising campaigns and improve performance. However, it's important to note that attribution can sometimes undercount conversions being attributed to the Google Ads campaigns, so it's important to also analyze other metrics like total sales and TACOS (Total Advertising Cost of Sales) to get a more complete picture of campaign performance.
When setting Google ACOS goals, it's important for Amazon sellers to consider several factors that can impact their overall sales and revenue:
1) Impact on Total Sales: Amazon Attribution has a 14-day attribution window and can sometimes undercount conversions from Google Ads campaigns, so it's important to look at total sales over time after turning on Google Ads.
By tracking sales data over a longer period, sellers can get a more accurate picture of how their Google Ads campaigns are impacting their overall revenue.
2) Retail Flywheel Effect: Driving more sales from external traffic on Amazon can lead to a higher organic ranking on Amazon, which in turn can drive more sales and revenue. Amazon places a heavy emphasis on external traffic and provides rank rewards, so it's important for sellers to factor this into their Google Ads strategy. Amazon has confirmed that external traffic boosts Bestseller Ranking.
3) Lifetime Value: With the potential for repeat customers, it's important to consider the lifetime value of new-to-brand customers when setting Google ACOS goals. For "Subscribe and Save" products, it's important to track the number of "Subscribe and Saves" over time, as paying for the upfront cost of the initial purchase can pay off over time with repeat purchases.
Overall, by considering these factors and using tools like Ampd to optimize their Google Ads campaigns, Amazon sellers can maximize their external traffic to Amazon sales and revenue potential, and grow their business over time.
Ampd's Results
Tinuiti used Ampd to launch a traffic campaign for two different products to test a variety of keywords. Initially the campaigns produced 35% ACOS and 182% respectively.

Ampd's attribution technology has the ability to combine Google data (Impressions, Clicks, Avg CPCs, CTRs, etc) and Amazon Attribution sales data (Add to Carts, Conversions, Revenue, Brand Referral Bonus, ACOS) together in an easy to ready UI, revealing which keywords were converting at better than 10% ACOS (over 1,000% ROAS)
Ampd UI below:

Optimizations With Ampd's Data
With Ampd's keyword level attribution data, Tinuiti was able to follow the data and easily split out keyword groups and focus budgets on the highest performers, including an 'Amazon' branded keyword campaign, netting a 14% ACOS and producing ~$9,711/month in revenue from Google Ads.

These quick optimizations lead to the account seeing:

Revenue increased by 84%
ACOS improved from 41% down to 22%
Avg. CPCs decreased by 13%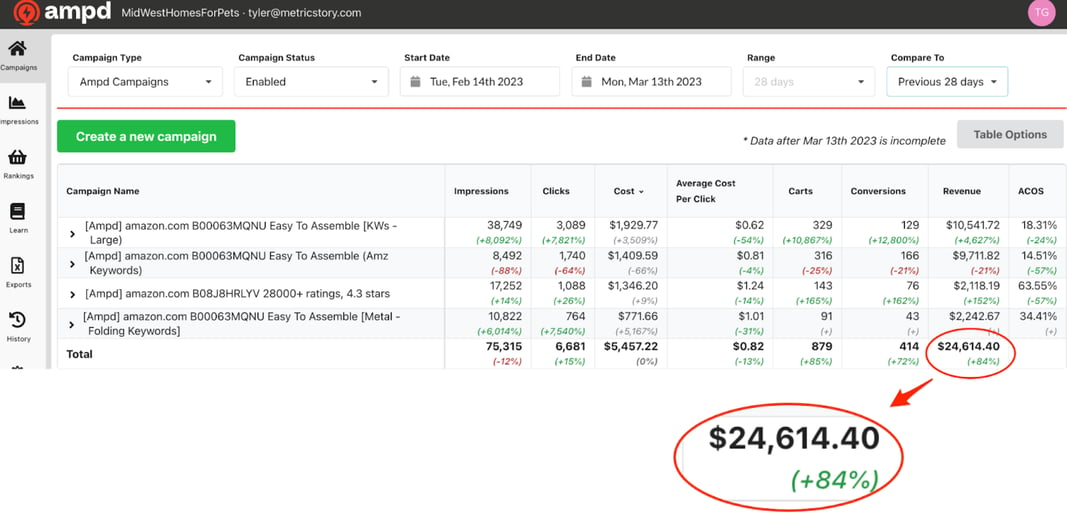 This level of attribution analysis can help Brands identify their best-performing keywords and make data-driven decisions about their advertising strategy. By focusing on high-performing keywords, sellers can optimize their Google Ads spend, and drive more sales and revenue on Amazon.
Overall, Ampd's attribution technology is a powerful tool for Amazon sellers who want to take their advertising performance to the next level.
When can Ampd help?
If you work with a brand who sells on Amazon, Ampd can be an effective way to:
Unlock more revenue for your clients

Increase ad spend under management

Implement a Google to Amazon Strategy that compliments their Google to D2C strategy

Amazon's high conversion rates can unlock an entire new segment of keywords on Google.
Want to unlock external traffic for your brand?
Sign up for Ampd, or book a demo!