TACoS, short for Total Advertising Cost of Sales, is a metric that measures how much you spend on advertising compared to your total sales on Amazon, which includes your revenue for both ads and organic sales.
Monitoring your TACoS ensures that your Amazon marketing is optimized and provides the best ROI. Understanding this metric will help you measure how effective your ad campaigns are and how they affect your sales.
In our guide to finding out everything you need to know about TACoS to boost your Amazon Advertising this 2023, we've learned how to calculate TACoS and it's difference from ACoS , which is a metric that measures if your ad is profitable or not.
In this blog, we'll share 3 case studies of brands that lowered their TACoS and boosted their bottom line through Google Ads with Ampd. Discover how they did it and learn how you can apply these strategies to your own advertising campaigns. Let's get started!
Utilizing TACoS for your Business
We know that TACoS is a key ad metric that determines your overall sales performance by factoring in ad revenue and, the holy grail of digital marketing, organic sales.
Keeping track of this metric can help you guarantee that your advertising costs are generating the maximum ROI.
TACoS is crucial to your business because:
It shows your profit after advertising expenses.

It identifies products that depend on advertising to sell.

It detects sales patterns, both positive and negative.
While you may experience a temporary increase in your TACoS, the ultimate aim is to observe a gradual decrease over the long term.
But how exactly can you lower down your TACoS? These real-world success stories show how 3 brands improved their TACoS using Google Ads by Ampd. Let's dive in!
Real-World Success: Partnership with Ampd
Ampd is the self-serve solution for launching Google Ads to Amazon campaigns with ease. With advanced data science, it automatically optimizes for the best results and applies Amazon Attribution and the Brand Referral Bonus.
Check out this Amazon brand's performance while teamed up with Ampd: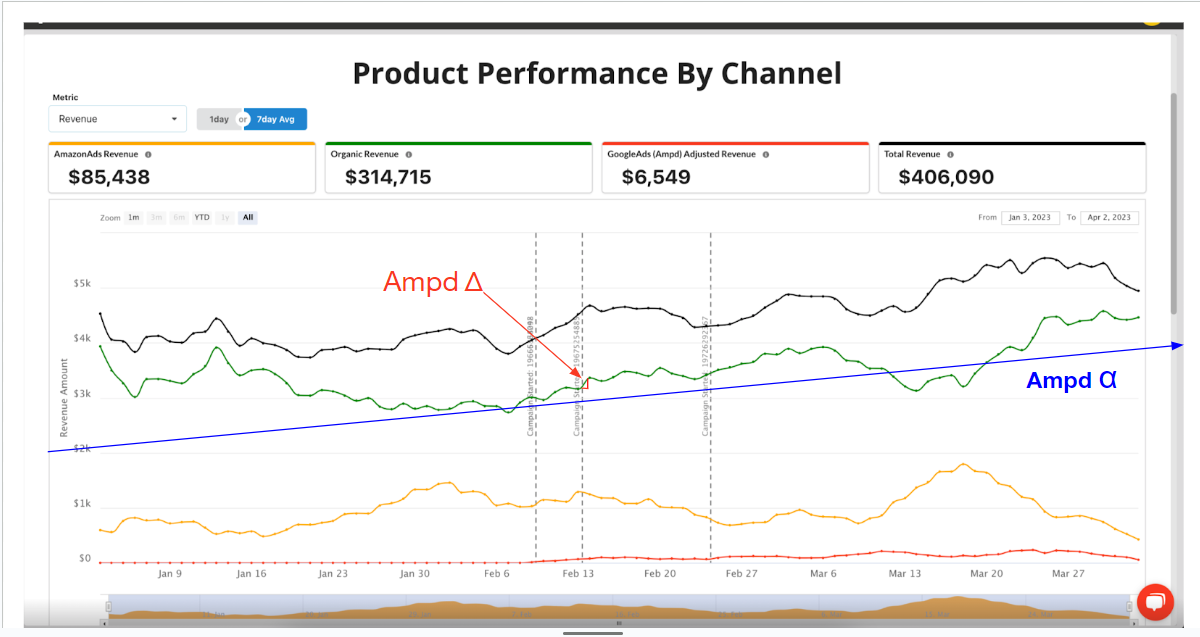 Here, Ampd Delta tells us that turning on an Ampd Campaign directly increases organic revenue.
On Ampd Alpha, we've confirmed that running Ampd Campaigns alongside Amazon Campaigns can increase Organic Revenue over time.
Case 1: 83% Organic Rank Performance Increase
A similar case, Trivium Group saw a positive organic rank increase on search terms directly on Amazon while partnered with Ampd.
The agency aimed to boost their brand's Amazon sales and improve its organic presence on the platform by leveraging Google Ads.

Ampd's technology connects Google Ads data with Amazon sales data, while automating Amazon Attribution tagging for brands. Trivium used Ampd's UI to see which Google keywords resulted in direct sales on Amazon and optimize those campaigns for their brand, Precision Pro.
The brand was able to reach new potential customers actively searching for products similar to theirs through Ampd's relevant Google keyword research . Prioritizing 'Amazon' buying intent keywords on Google, and using 'Non-Amazon' keywords grew their customer funnel.
With Ampd's ability to track organic search terms ranking on Amazon, as well as the track 'Best Sellers Rank', Precision Pro saw an organic rank performance increase of 83% for a single keyword through driving qualified external traffic to Amazon from Google.
Additionally, with the brand being eligible and enrolled in Amazon's Brand Referral Bonus (BRB) program, Ampd was able to automate each campaign and keyword for BRB.
End result: An increase in Amazon sales and organic rank, while receiving a rebate kickback from Amazon, through Ampd's campaigns.
Case 2: Bypassing the Competition & Finding New Customers
As shown on both graphs, this specific brand's organic sales increased by over 100% in just 2 months, and has shown a positive effect on Amazon organic revenue in the short and long term across many categories.
When Jungle Scout teamed up with Ampd, they effectively expanded their marketing mix to find new customers on Google Ads.
Ampd helped Jungle Scout put their ad for one of their most popular products at the top of the Google search page, changing the purchasing journey. Now customers are sent directly to Jungle Scout's product page, bypassing their competition on Amazon.
Jungle Scout also aimed to get direct conversions from Google Ads and allocated a small budget to test it on one of their hottest products. They launched two campaigns to test different keyword groups and the results surpassed their goals. With Ampd's technology and attribution, they found new customers on Google Ads and expanded their marketing mix effectively.
Case 3: Customized Strategy for a Huge Increase in Organic Sales
As with Therabody's case, this brand's partnership with Ampd demonstrates how Ampd can cause a huge increase in organic sales when turned on with an ASIN.
Momentum Commerce aimed to boost its brand's, Therabody, Amazon sales with Ampd's Google Ads to Amazon solution, while keeping their current Google Ads to DTC website efforts intact.
Ampd's software enabled keyword-level Amazon Attribution, tracking which Google Ads keywords and clicks led to sales and revenue on Amazon. It also automatically tagged campaigns for the Brand Referral Bonus program, enabling Therabody to receive a 10% rebate bonus from Amazon on all sales driven by external traffic.
With this customized Google Ads to Amazon strategy developed by Ampd and Momentum Commerce, Therabody was able to target specific Google searches with 'Amazon' buying intent, driving more relevant traffic to Amazon and resulting in increased revenue and organic rankings. They also improved Google Ads click and CPC performance while managing their other campaigns. Ampd's technology allowed for easy linking of Google Ads and Amazon sales data, automating attribution and providing a clear picture of which searches led to revenue on Amazon.
Boost your Bottom Line with Google Ads & Ampd
If you want to see similar results for your brand, team up with Ampd and join the ranks of businesses and agencies that has seen growth while in our hands.
Sign up now and let our team of experts handle all the time-consuming and complicated process of manually managing your ads. You can also book a demo with Ampd today!