Using a marketing email platform such as Mailchimp, SendGrid, Marketo, or Eloqua will reveal how many recipients opened the email, from where, and from which device. This measures the visitor portion of the equation, but to really move the needle, email marketers need to understand the conversion rate (transactions / visitors) of each of their campaigns so they can optimize their landing pages for mobile devices.
In order to do this efficiently, marketers should start by focusing on how e-mails convert on mobile compared to on Desktop.
Mobile usually doesn't convert at the same rate, BUT mobile shouldn't be 10x lower than desktop. If you think a particular campaign was performing bad in mobile, the first thing you should do is to compare its mobile conversion rate to that of a similar e-mail campaign.
The easiest way to do this in Google Analytics is to look at "Device Category" secondary dimension under the "Channel Reports" and compare Desktop to Mobile. You'll need to pick "Campaign" as your primary dimension on that same screen. (See screenshot for exact steps).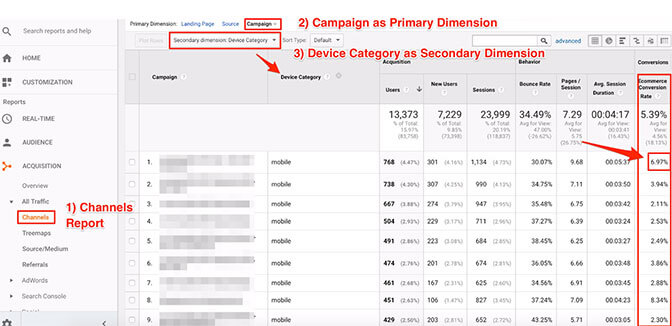 Once you have done this, you can now see the conversion rate for all your e-mail campaigns for mobile. This reveals not only how many people came in from mobile, but how well each campaign did in converting customers.
When looking at the screenshot, you'll notice the first row is converting at 6.97% while the next highest one is at 3.94%! From here, you just need to pick two similar campaigns that that have different mobile conversion rates and then you can look at the landing pages for each campaign, but switching the "Primary" dimension to "Landing Page" in order to see the URLs for the landing pages.
From here, put yourself in the customer's shoes and go to the landing pages on your mobile device to see for yourself what issues could be causing customers to not convert. Comparing the high converting pages to the low converting pages on your device should shed some light on issues that can be quickly fixed.
Metricstory performs this type of analysis for our clients and when their email managers have compared the landing pages on their devices they have found easy to fix issues such as:
Merchandise being below the fold causing their customers to bounce before seeing the products they were promoting.

Call to actions not front and center

Broken links to products
This analysis can be done in under 30 and can dramatically improve your email conversion rates and, with more and more customers making purchases on their mobile devices, delivering a consistent and smooth mobile experience can drive serious revenue and ensure happy customers!