Amazon Brand
Jungle Scout Test Reveals 160% Increase In Organic Sales Over 90 Days
The Backstory
Jungle Scout's mission is to provide entrepreneurs and brands with the resources and data they need to build successful businesses on Amazon.
Jungle Scout also launches their own Brands and Products on Amazon using the same tools and resources they provide their customers.This provides an excellent testing ground to try new strategies on their own products that they can then bring to their entire customer base as well as create real-world training material to help Amazon sellers learn all essential steps and strategies to build and grow a successful business on Amazon.
One strategy that Jungle Scout had not yet tried was leveraging Google Ads. They knew the power of an omnichannel marketing strategy and understood the key for continued success on Amazon is to market your products where your customers spend time.
They knew their customers were looking for their product on Google and they could see they were missing out on sales that competitors were winning with high organic rankings. The screenshot below shows the top search result for their products on Google.

When customers click on the top result they are taken to an Amazon search result page where Jungle Scout's top competitors are all paying top dollar for Sponsored Ads. This page is too competitive and Jungle Scout does not have their products listed here.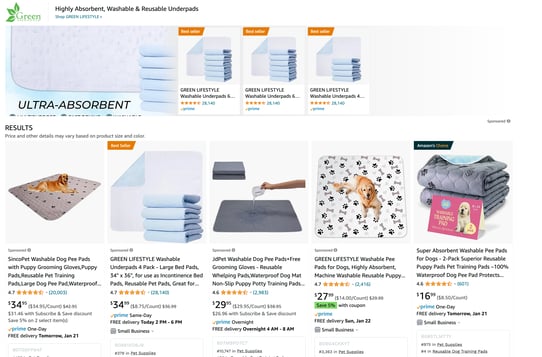 Enter Ampd
Jungle Scout adopted Ampd because they needed a way to tap into Google Ads. Ampd's cutting-edge, self-serve technology makes it easy to launch a customized Google Ads-to-Amazon campaign and automatically applies Amazon Attribution to the campaign.
Ampd uses its proprietary technology to first launch the best ad for the specific Amazon product and then uniquely and accurately connect Google and Amazon data to reveal precisely which Google Keywords drove "add to carts" and which drove "conversions/sales." These insights giveAmazon sellers the curated visibility and actionable clicks to hone in on the highest-performing keywords so they can continually improve campaign performance — all in just a few clicks and without ever leaving Ampd.
With Ampd's help, Jungle Scout was able to change customers' purchasing journeys on Google and put an ad for their products (a pack of reusable pee pads for dogs) at the top of the page on Google.
Now when customers search for Jungle Scout's product on Google, they see an ad that sends the customer directly to their product on Amazon, completely bypassing their competition!
Goals
In addition to winning sales against competing brands, Jungle Scout was curious whether they could get direct conversions from Google Ads — how profitable might they be?
Jungle Scout knew going into the test that Google Ads was going to be very different from Amazon Ads.
The goal for their product\ was to generate an advertising cost of sale (ACOS) between 60-100%. They knew if they could hit this goal that the impact would likely be far greater than just the direct ACOS, so they treated ACOS as a leading indicator.
This ACOS range was determined for the following reasons:
1) Retail flywheel effect: More sales leads to higher ranking, so if Jungle Scout was able to drive relatively efficient conversions from Google, they knew this could impact ranking and lead to more organic sales.
2) Lifetime Value: With potential repeat customers and factoring in the lifetime value of new customers, they were able to run with a higher ACoS threshold for these new customers.

Direct Attribution Results From Google
Jungle Scout dedicated a budget to test Google Ads on their dog pads and the results surpassed their goals. They launched a few campaigns on January 3, 2023, targeting the same product in order to test different keyword groups.
All campaigns exceeded their ACOS goals of 60-100%. One ended up producing a direct ACOS of 42% (32% when incorporating Amazon's Brand Referral Bonus of 10% bonus on all revenue) while the other generated a 48% ACOS (38% when incorporating BRB) and generated 107 add-to-carts and 63 new customers.

Ampd's technology also brings together Google and Amazon data at a keyword level, allowing brands to improve campaign performance by pushing more budget into their most efficient keywords. In this screenshot, Jungle Scout has keywords producing ACOS as low as 8.59%.

Full-funnel marketing and external traffic's impact on Total Sales and Organic Sales
Successful brands implement diversified, full-funnel marketing strategies by engaging high-value customers across the web to create consumer awareness and "spin the retail flywheel" on Amazon.
Jungle Scout experienced this "snowball effect" of Google Ads as they saw a significant increase in organic sales that aligned with when they started their Google campaigns.
Although Jungle Scout did launch two new variations of their product in December which accounted for some of the month-over-month growth in organic sales, the following data shows how Google Ads helped fill their product's marketing funnel, the ROI of their Google investment extended far beyond the direct ACOS seen above.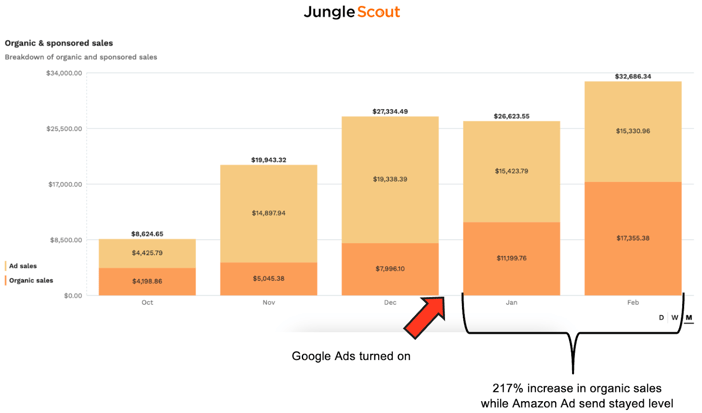 This chart shows that Jungle Scout kept Amazon Ad spending steady during January and February, producing Amazon Ad revenue of $15,423 and $15,330, respectively.
This product generated $7,996 in organic sales in December, and after Ampd campaigns were turned on January 3, it produced $11,199 in organic revenue throughout the month, an increase of 40%.
As the Ampd campaigns continued through 90 days, organic sales increased by 160% from before turning on Ampd campaigns.
This chart shows how the new-to-brand customers from Google combined with the impact on organic sales led to an increase in subscriptions in January and February. Historically, January and February have been stagnant periods as seen in the chart below.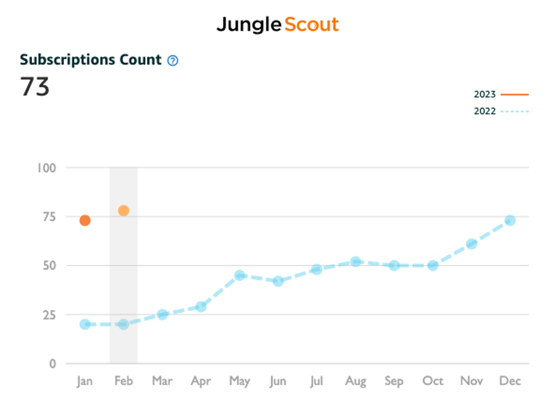 Best Seller Rank: The boost from external traffic also drove Best Seller Rank for this product from ~500 up to ~320

While Ampd-powered Google Ads to Amazon can produce efficient ACOS, this case study reveals the importance of a full-funnel marketing strategy on Amazon.
Amazon Brands know their customers live on Amazon as well as beyond the walls of Amazon, and there is an incredible opportunity to leverage technology and data to meet them where they live, bring them to Amazon, and convert them with their full-funnel marketing strategy.
The test Jungle Scout ran concluded that their customers were, in fact, looking for their products on Google. With Ampd's technology, they were able to effectively expand their marketing mix to find new customers on Google Ads and grow organic sales on Amazon.
Want to unlock external traffic for your brand?
Sign up for Ampd, or book a demo!