Writing ads can be hard can be challenging—you want to be successful but might not be sure how to go about it.
If you're wondering what to put into it or the best copy to include, we've got a quick walkthrough here of how to write an effective Google Ad for your Amazon Product Listing (including in a couple quick pro tips and steps).
How to Write your Google Ad for your Amazon Product listing
1. Sign into Ampd and toggle over to the Amazon Sellers tab. From scroll down to "Create a Google Search Ad for an Amazon Product Listing" and click "Create an Ad"
2.

Go through all the steps such as:
Entering your Amazon Product

Selecting the Amazon search terms to track for this product

Selecting a Location

Selecting Google keywords shoppers use to find your products
3. Start creating your ad
4. You will need to write 3 "Headlines" (

required

) but you can also add more if you would like to try different copy styles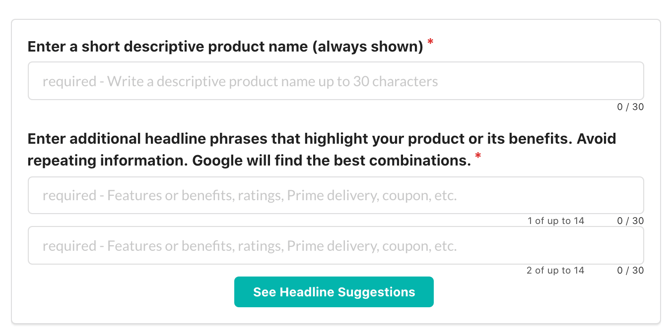 Pro Tip: People are most likely to notice your headline text, so consider including words that people may have entered in their Google search. Your text ad consists of three headlines where you can enter up to 30 characters each to promote your product or service. The headlines are separated by a vertical pipe ("|") and may show differently based on the device someone is using when they view your ad.
Extra Pro Tip: If you are stuck, you can click "See Headline Suggestions." It is important to add Keywords to your headlines as well as keywords about your Amazon Product Listing such as "Free Shipping" to entice those prospective customers to click.
5. Next, you will add a two descriptions

Pro Tip: Describe the benefits and features of your products.
6. You can see the ad at the top of the page—this is how customers will see your ad!
Extra Info: Enter multiple headlines and descriptions when creating the ad, and over time, Google Ads will automatically test different combinations and learn which combinations perform best
7. Once you are satisfied with the ad, click "Next"
Once you have clicked next make sure to check back in with Ampd on your ads progress, but be aware that it may take up to 72 hours to see impressions!