Influencer marketing has become a popular strategy for marketers as they are beginning to realize just how powerful it is. Nowadays consumers are inundated with marketing messages and are more aware of how traditional marketing strategies affect them. Consequently, consumers don't like to be advertised to and marketing messages have less of an effect and less credibility every day.
According to AdWeek, influencer marketing identifies specific individuals who have influence over potential customers and orients marketing activities around these influencers. In other words, influencer content is framed as a testimonial, where influencers play the role of potential buyers and talk about the product or service to their audience.
Influencer marketing is an important strategy eCommerce teams should consider because it can be both cheaper and more effective than traditional advertising. However, because influencer campaigns don't always necessarily lead to a huge boost in sales right away, they can be difficult to measure success.
How you measure the success of an influencer marketing campaign largely depends on your original objective. While each of these goals serves a distinct purpose, likely the reason you're turning to influencer marketing is to generate additional revenue. The way that revenue may come to fruition may be different, depending on the goal of your influencer campaign.
Don't know where to start? We have some suggestions to measure the success of an influencer campaign based on four different goals.
Goal #1 Visibility
Choosing to focus on visibility would be a relevant goal if you want to introduce a new product, increase your overall brand or business awareness, or plan to announce a new segment of your business. Visibility is beneficial because increased impressions on your brand's social media sites, website, or blog mean more potential customers.
If your goal for your campaign was visibility, you will want to investigate whether or not your impressions increased during the campaign window. A popular misconception about influencer marketing is that an influencer is someone with a large social media following. However, the key to choosing the correct influencer is making sure you're hitting the right audience. Micro-influencers are perfect for this as they cost less than a larger influencer and have a following around a specific area of interest. The right influencer may not have the most followers, but be the one with a very active fan base centered around a niche topic applicable to your business.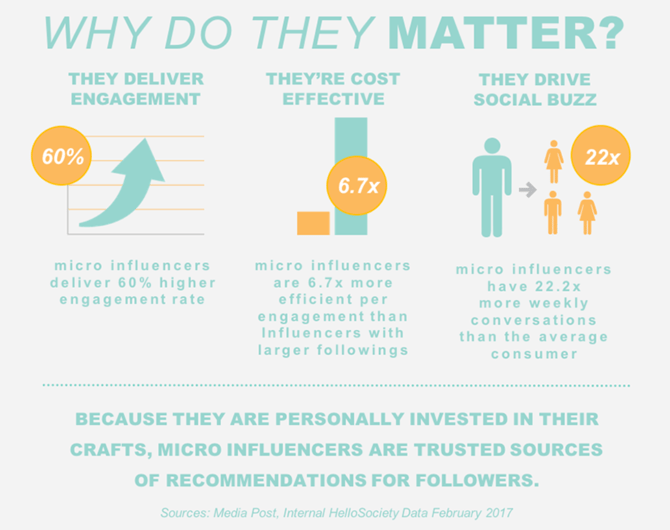 Source: Medium
Goal #2 Engagement
If you want to focus on long-term return on investment, lifetime value (LTV), and increase the likelihood that viewers will become brand loyalists - a good goal for your influencer campaign would be engagement. Another reason to choose engagement as a goal would be if you want to expand your pool of fans on social media to get more likes or followers. As the online marketing institute states, choosing the goal of engagement may also be useful if you want customers to participate in a contest, share a piece of news, or ask about a specific product.
With increased engagement, more of your consumers are actively following your brand which in turn builds a stronger relationship with your customers. Engagement is typically measured through cost per engagement (CPE). CPE for collaborations with influencers will fluctuate depending on the influencer's size. While CPE for influencer marketing may be a bit more expensive than traditional Facebook or Twitter advertising, the results when using an influencer to tout your brand or product tend to show a greater, more long-lasting impact. According to a Mavrck report, using engagement as a goal can be a good indicator of market interest in your product and/or brand.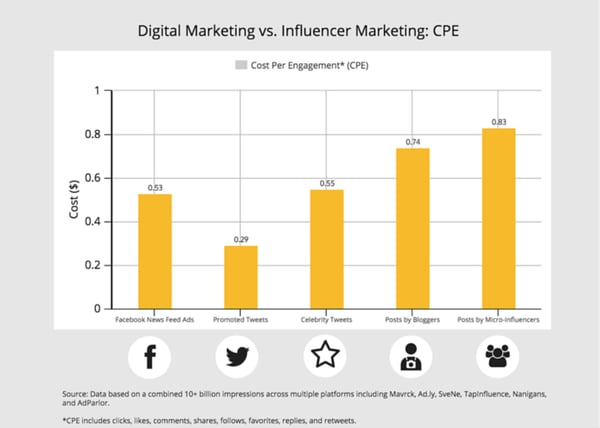 Source: Mavrck
Goal #3 Content
Choosing to focus on generating content is a smart goal if your company needs to increase its overall online presence with photography assets, blog content, backlinks or reviews. Email marketing campaigns, which are still one of the most successful and reliable types of digital marketing, are boosted with the addition of lifestyle content and imagery from bloggers. Having images, video or other content created by influencer in a marketing email is more successful than email marketing campaigns with brand content alone. According to a Hubspot article on visual marketing, humans process visuals 60,000 times faster than text. While consumers only retain 20 percent of what they read, they can retain 80 percent of the visuals they see. Adding visuals and video to an email can draw a consumer in more effectively than a text-only marketing email.
Working with the right influencers to produce content can be more cost-effective than creating content on your own. Creating valuable organic content takes time and resources that you may not have. Collaborating with an influencer to produce content for you affords your company the flexibility to focus on what matters most. Additionally, the influencer may have more experience or skill in creating and editing organic content, saving you time and quality. Therefore you reap the benefits of having quality, organic content but can spend your valuable time more wisely.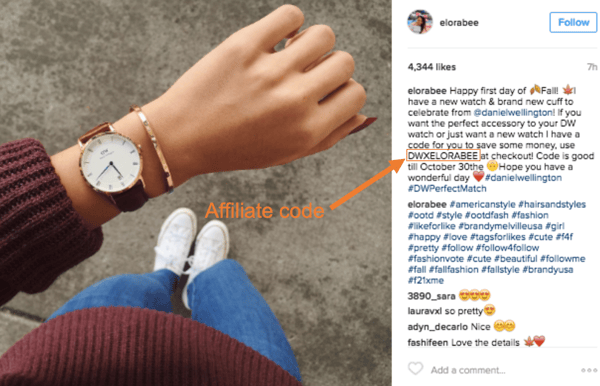 Source: Later
Goal #4 Revenue
Since influencer campaigns don't always necessarily lead to a huge boost in sales right away, it can be a bit harder to track revenue. But, it is not impossible! Here are a few ways to track revenue for an influencer campaign:
Affiliate Marketing
Use an influencer-specific affiliate link for an influencer to post on their channels. This allows you to track online sales made through their social channels and blog posts by collecting specific data like the number of clicks, conversion rates, and revenue.
Promo Codes
Even if the post ultimately inspires their buying decision, not all customers will make a purchase immediately upon seeing an influencer's content. It is important to use both affiliate links and promo codes because affiliate links only reveal a part of your ROI. Promo codes help you track later purchases driven by influencer marketing.
Google Analytics
Google Analytics can help you track how successful your influencer was by seeing which of your online customers visited your eCommerce site from an influencer's blog or social channel. This can be done by setting up an event goal in Google Analytics.
Isolated Marketing
Choosing to have your influencer promote one specific, or custom, product is a good way to measure an influencer's impact on sales no matter when, or from what channel, the purchase takes place. Isolation will also give you a more complete picture of your consumers' buying behavior, from which you can better see if influencer marketing is worth it in future campaigns.
Influencer marketing typically takes more time to execute than traditional marketing campaigns. However, high investment yields high returns. According to a study done by St. Joseph's Communications, 61% of consumers rely on social media as the most important source of information when shopping. The same study showed that 67% of marketers believe that influencer marketing campaigns help them reach a more targeted audience and an influencer campaign may get you 11 times higher ROI than a traditional marketing campaign.
While measuring the success of influencer marketing can be difficult, with the right audience, influencer, and measurements, the payoff is well worth it!