So, you have heard of Google Ads and want to advertise your business on Google but are unsure of next steps. From understanding just what a keyword is to determining the cost-per-click, we're here to help—and our Google Ads guide for beginners is the perfect place to start.

Setting up Google Ads for your business can feel like complex work, but with the help of Ampd and familiarizing yourself with the basics, it's easy to reach new customers grow your business.

To help propel your business to success, our guide for beginners will take you through everything you need to know to get started today, including just what exactly Google Ads is, how Google Ads work, and how to run successful Google Ads campaigns.
What is Google Ads?
Google Ads is an advertising solution that can promote products, websites, and services through Google's network, including Search, Shopping, and YouTube.

To understand just how Google Ads can help you win customers, it is crucial to learn just what exactly Google Ads is and how Google Ads got started. The product launched more than twenty years —just two years after Google itself—and provides users with the ability to both run and manage their own online advertising.

Users can run campaigns according to their goals—whether it's selling products, getting email sign-ups, or ebook downloads—and reach new audiences of potential customers. The tool itself is flexible, with a wide array of advertising options and giving the user complete control over their targets and keywords.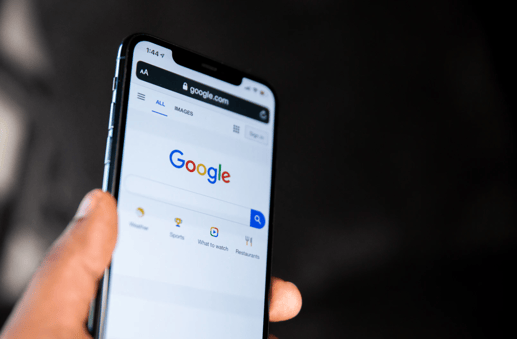 Glossary of Google Ads Terms
To give you a greater insight into just what Google Ads is, below you will find a glossary of key terms to help you understand the different components of the tool as well as what they mean.
Keyword
A keyword is a word or phrase describing your product or service that Google Ads will use to decide when and where your ad appears.

This is quite literally the key to Google Ads—get your keywords right, and you will soon be reaping the rewards. A keyword is the main targeting method that you will use for your search campaigns.

The ideal keywords to use for your Google Ads campaign are the ones that your customers are already using to search for the service or product you offer.
CPC
Cost-per-click or CPC as it is known, is the amount that you will be charged each time a prospective customer clicks on your Google Ad.
CTR
Click-through-rate or CTR, is the number of clicks your ad receives per number of impressions.

For example, an ad with 200 clicks and 1,000 impressions would have a CTR of 20%.
Ad Groups
A Google Ads ad group is a set of ads that share similar targets. You can use an ad group to organise your ads by a common theme such as a specific group of products, etc.
Campaign
A Google Ads campaign is a top-level set of ad groups that is used to organize similar keywords, ads or bids typically related to a category of products or services that your business offers.
Conversion tracking
Conversion tracking is a free tool that allows you to record what happens after a customer clicks on your ad.

You can track if the customer then went on to purchase a product, sign up for your newsletter, call you or download your app.
Return on Ad Spend (ROAS)
ROAS is the way to measure ROI on how you're spending your ads—it's calculated by your cost of spend to your revenue from those clicks/conversions that resulted from your ad campaigns.
How Google Ads Works
Google Ads works like an auction where businesses bid for clicks; however, unlike normal auctions, it is not necessarily the highest bidder that wins.

Instead, Google takes numerous factors into account when deciding which ads to show, including the overall quality score of your ad. This ensures that when a person clicks on an ad, they have the best experience possible on Google and keep on clicking for more.

Typically, the higher your quality score and bid amount, the better your ad will be positioned. Numerous factors contribute to your quality score including the historical click-through-rate of the ad and overall historical account performance.

Since Google Ads runs on a simple pay-per-click system, it means that you only have to pay when a visitor clicks on your specific ad, but you do still have to pay for the click regardless, even if they then do not go on to purchase or contact you.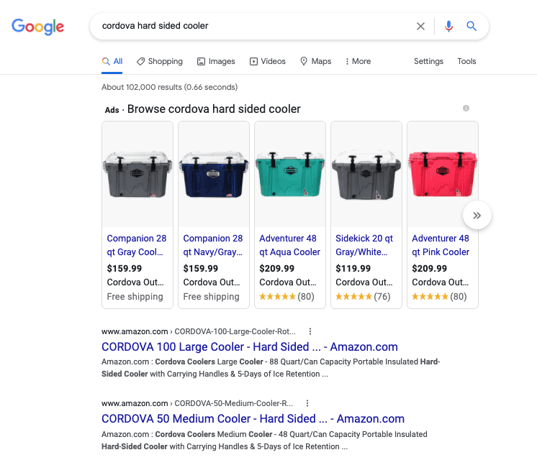 How to Get Started with Google Ads
Now that you have learned just what Google Ads is, a few of the most important Google Ads terminology, and how Google Ads works, it's now time to get started with creating ads for your business that will generate clicks and ultimately customers for your business.

To get started with Google Ads, get Ampd—not only will we walk you through the entire setup process but we'll also award up to $100 in Google Ads credit.

For those who don't launch with Ampd, the process is a little more complex:

You'll begin by creating your Google Ads account, and then you'll need to organize it by breaking down your products or services into categories and using the categories to structure your Google Ads account.

Then you'll have to set your budget—this is entirely dependent on what you can afford, then pick your keywords based on what terms you think potential customers will use to search for the products and services you offer, before setting your landing pages and writing your ads.

Finally, you'll have to activate your campaigns and don't forget to regularly check back in on your Google Ads to see how they are performing. Over time, you will be able to see which strategies are working and which need to be tweaked.

But if you work with Ampd, we'll take care of all the legwork for you and even offer you free educational content and videos along the way—we're the fastest, simplest, and more effective way to launch, manage, and maximize Google Ads.

Regardless of if you are a small business or established corporation, our sole mission is to empower ecommerce businesses. We connect the end-to-end process and eliminate 90% of the effort of setting up your Google Ads, providing you with the best chance of success.

Simply get Ampd today to get started using Google Ads and attracting new customers to your business today.