When it comes to social media marketing, Facebook, Twitter, and Instagram seem to be the "go-to" platforms for eCommerce companies to promote their brand. While Facebook, Twitter, and Instagram certainly have the advantage of a large user base, Pinterest excels in its exceptional selling power.
Pinterest has a unique take on social media. It transforms the more typical reactive reading feed into a proactive "search and save" tool. Pinterest is an underutilized, but powerful, social media marketing and advertising tool. Because of this, the team at Metricstory has collected a few ideas on why, and how, your eCommerce company can take advantage of Pinterest Advertising.Why is Pinterest an Important Advertising Tool?Pinterest has over 250 million active users with 175+ billion pins linking to products ready for purchase. And, according to a 2017 online interaction study, Pinterest drives more referral
 traffic to shopping sites than social platforms such as Facebook, Snapchat, and Twitter. The study reported that 93% of its users go to Pinterest to specifically plan their shopping and 66% of respondents said they buy something after seeing a brand's pins. Pinterest is a marketing powerhouse for eCommerce companies because users are proactively searching for things rather than reactively scrolling through a feed.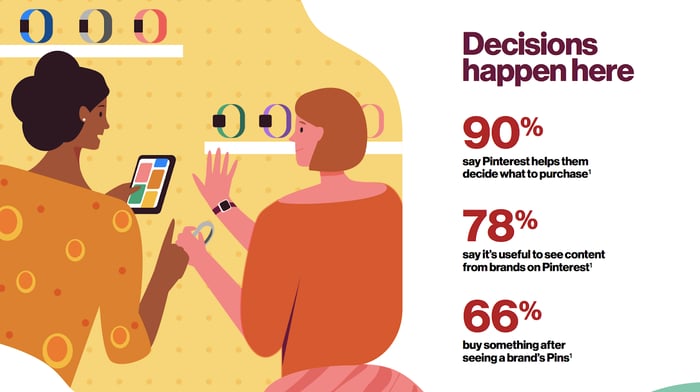 Source: Pinterest Data
The success of Pinterest as a marketing tool is partially tied to Pinterest's development of a robust advertising platform. Pinterest Business offers specific tools such as Shop The Look and Pincodes. With Shop the Look pins, users can find and buy products right inside fashion and home decor pins, making it easy to bring inspiration to life.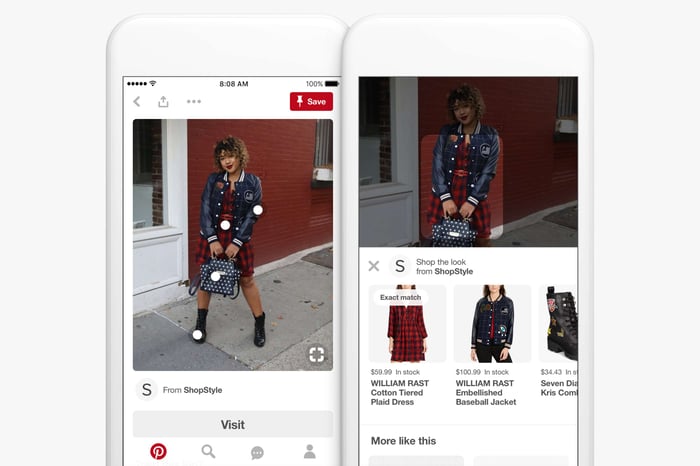 Source: Pinterest
Pincodes work similar to QR codes and bridge the gap between online and offline brand discovery. They help people find your brand or products on Pinterest, based on things they see offline. Like QR codes, Pincodes can be put on any physical brand asset.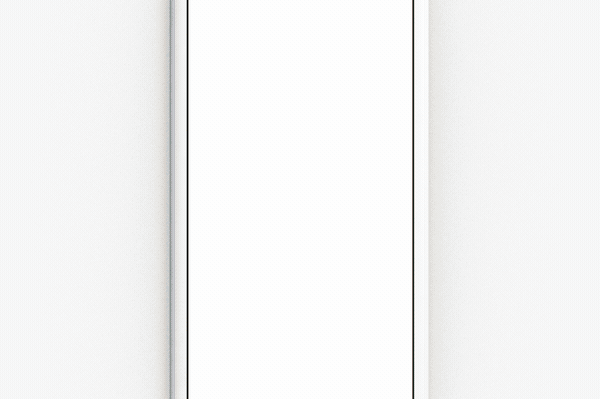 Source: Pinterest
Pinterest's integrated eCommerce marketing tools show just how easy it is to leverage Pinterest as a powerful marketing tool. After setting up your advertising campaign with specific goals, objectives and target audiences, it's time to select the best pin to promote. Pinterest is a largely visual medium so here are the top tips and examples of how to create a successful Pinterest ad.
Tip 1: Maximize Your Description
While your pins' visual layout will be the first thing that catches the pinner's eye, the description adds context that helps the users decide whether or not they should click on the pin. Therefore, it is important for your promoted pin description to explain the value of your product.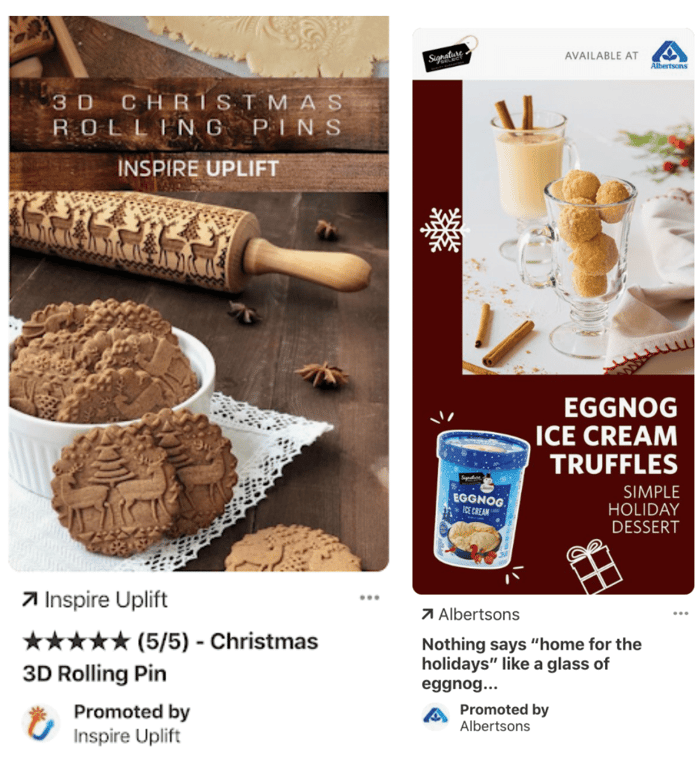 Source: Inspire Uplift and Albertsons
For example, when searching "holiday recipes" I was served two different promoted pins. Inspire Uplift's promoted pin tells users that they are selling a 3D printed rolling pin. Okay great, but why would I click on the pin to purchase the 3D rolling pin? While the image is appealing, there is nothing in the description that lets me know anything about the rolling pin. Why would I want a 3D rolling pin as opposed to a regular rolling pin?
On the other hand, Albertsons' promoted pin has the type of content that pinners would love. Like Inspire Uplift, Albertsons is promoting a product. However, they are using the context of making a holiday-themed dessert to promote their ice cream. Additionally, they include a description that reads, "Nothing says 'home for the holidays like a glass of eggnog but we think this holiday classic is overdue for an upgrade." Albertsons' promoted pin description is a great example of how to include search keywords in the description, as well. A common misconception on Pinterest: your promoted post does not need hashtags, as long as the description is detailed. Because Pinterest functions as a giant search engine, users have most likely already searched to get where they want so including hashtags in the description is a waste of valuable word real estate. Pinterest only allows about 50 characters in the main description before users have to click on the pin to read the rest of the description.
While Pinterest is a visually-driven platform, side by side you can see that having both a strong visual and a description to match is much more powerful than just having a strong visual.
Tip 2: Specific Landing Pages Increases The Conversion Rate
A basic rule for eCommerce sales: the less work for a consumer to purchase, the better. So, for pay-per-click campaigns, this means you should be sending users directly to the content that they're expecting to see after they click on your pin. In other words, the landing page should match the pin. If your promoted pin is an image of a shoe, a user should not be directed to the home page or an offer to subscribe to your company's newsletter. If you don't send them directly to pages of products, the product description page itself, or content the user wants to see, the user will become disinterested and click away. This also sours the chance for the potential customer to click on your ads again. Tieks provides a great example of linking the Pinterest post to a specific landing page. The promoted pin advertises chestnut and teal colored leather flats and when you click on the pin it takes you specifically to the product page to buy the flats.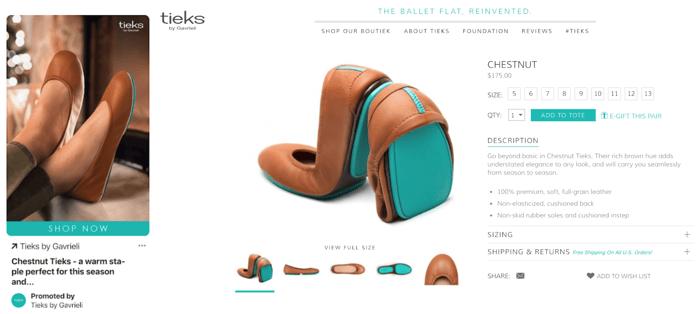 Source: Tieks
Tip 3: Get Your Visuals and Colors Right
Pinterest is a largely visual site, so it's no wonder that the design of the promoted pin is an important factor in whether a user will choose to click the pin. To make your pin stand out, follow these Pinterest-specific design tips collected during a study by Curalate:
Images with multiple dominant colors have 3.25x more repins than those with a single dominant color

Very light and very dark images are not repinned often; shoot for middle-of-the-road saturation and brightness

Red-toned images perform higher than blue-toned images

Images with less than 30% whitespace or background performed better than all other pins

Brand images without faces received 23% more repins than those with them

You can include text on the image of a pin, especially to establish context, but it should be minimal, and the color should contrast with the rest of the image

You can create a pin that consists of several images (stacked vertically), but Pinterest recommends using no more than four images per pin
Tip 4: Layout Matters
Along with an engaging pin design, the way your pin stands out amongst a user's Pinterest feed is an important factor for the success of your Pinterest advertising campaign. When scrolling through a Pinterest feed, you'll notice that pins come in a variety of sizes. However, Pinterest recommends a portrait orientation ratio of 2:3 with the image sized at 1000 x 1500 pixels. This will give users a high image resolution.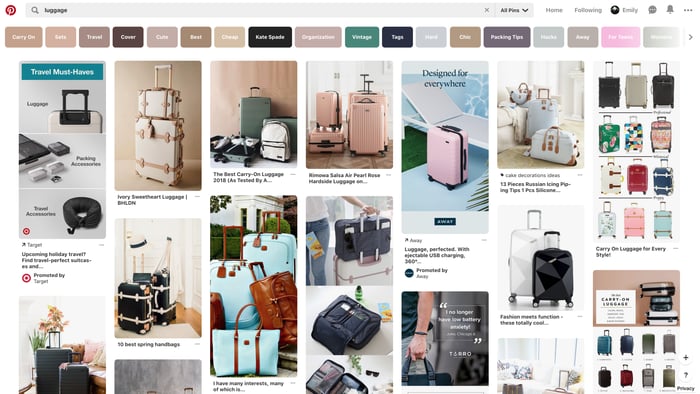 Tip 5: Consider Video Ads
Video advertising has become an increasingly popular vehicle for social media strategy, and Pinterest is no exception. Autoplay for videos on Pinterest is a feature only available for promoted pins, but still, videos are a rare sight on the platform. If you can offer value to pinners (think tutorials or DIY videos) you will automatically stand out. For example, bareMinerals used a short makeup tutorial video to advertise their products.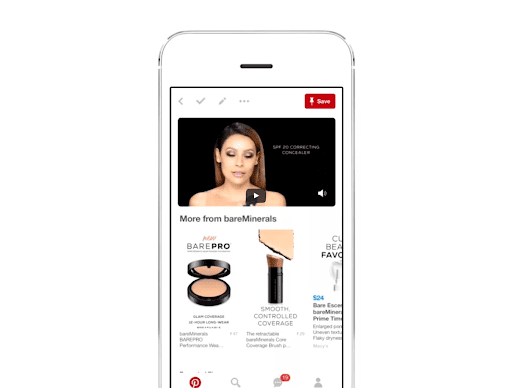 Source: Sprout Social
One promoted video success story belongs to Hunter, who used a Pinterest campaign to advertise the launch of their Core Collection. During the campaign, Hunter saw a 30% increase in branded searches across Pinterest, and reached a 10% earned media rate
Bitable also has some great Pinterest advertising tips for videos including:
A high resolution gets more views - even if the video is small in the Pinterest thumbnail preview, no one will want to click and watch a blurry video

Use your video as a teaser or limit it to less than 30 seconds - users are browsing through pins quickly, so they usually are not willing to sit and watch a 3-minute video

Make your ad functional without sound, or use subtitles or on video text

When videos autoplay users have to enable sound creating more work for the user

You can reach a wider audience of people who cannot have their sound on when they are browsing Pinterest
Brands underestimate Pinterest as a social media marketing platform, but the value of advertising on the platform for eCommerce companies can be gigantic. To make the most of Pinterest and its enormous selling power, don't forget to create promoted pins with the function of Pinterest in mind. Pinterest is a visual platform first! Therefore, having the correct design - from the size, color, and description - can make your pin stand out and your campaign successful.


Good luck and go start creating!