Every website needs to focus some of its setup time on search engine optimization to stay relevant. But this is more so for eCommerce sites which face fierce competition from both eCommerce giants like Amazon, and smaller mom-and-pop sites.
Amazon, Walmart, and Target will have some of the best SEO practices on the internet, so trying to compete with them may not be the best investment of your valuable time and resources. Instead, we recommend focusing on competition similar to your size and scope.
The easiest way to start is to explore your eCommerce site's opportunities with SEO.
eCommerce Keyword Research
Keyword research is an excellent first step to improving search engine optimization. You need to know what people are looking for if you want them to find your eCommerce website.
You should start your keyword search at sites like Google and Amazon. Enter keywords related to the products you sell and see what the most searched terms are.
For example, if you type "women's tops" into the Amazon search bar, it will show related search terms that are most popular, like "women's tops and blouses," "women's tops long sleeve," and "women's tops clearance."

Using the same search term in the Google search bar, you'll find also find "women's tops and blouses," as well as "women's tops on sale," and "women's tops for leggings." These are excellent starting points.
Next, take your search terms over to sites like SEMRush to conduct further keyword research. SEMRush is a toolbox for optimization with SEO Keyword Magic. Enter the keywords you researched into the tool, and it will produce the search volume of your terms and other related keywords. SEMRush and other keyword research tools group relevant keywords together to find long tail terms you can insert into your category and product description pages. Long tail keywords including 4 to 5 words are more accessible to target than shorter terms.
A great option for keyword research is the Google Keyword Tool which is conveniently free to use. One formula we recommend following is to search for unique long-tail key terms that have a large search volume, but low competition. Though, if you want more specifics than the basic free tool provides, you need an active ad campaign, even if it's only a few dollars a day. Google Keyword Tool is like SEMRush — you look for ideas for category pages through the Ad group ideas tab and long tail keywords with a commercial intent persona.
On-Page eCommerce SEO
Once you have a handle on your ideal and practical keywords, you can move on to optimizing your website pages. And yes, you need to optimize every page.
Start with your URLs. Optimizing your page URLs is just as important as the content on the pages. Messy URLs are less searchable and have lower click-through rates (CTR). If you see a URL in a search result that reads like a blog post when, in actuality, it's a product page for an item you're selling, your CTR can suffer. Clean up your URLs by sticking to the basics.
Yourdomain.com/category-name (for a category page)

Yourdomain.com/category-name/subcategory-name (for a subcategory page)

Yourdomain.com/category-name/subcategory-name/product (for a product page)
Take the time to optimize the descriptions on each of your category and product pages. Each should be completely unique. Don't copy and paste from the manufacturer's website...instead, write something new, helpful, and engaging. Search engines will thank you, and your customers will love it. Sprinkle in your carefully chosen keywords throughout the descriptions naturally. If it's forced, it's obvious, and no one will appreciate it.


Next, work on your schema markup. Schema markup is the code you place on your site that helps search engines return useful information to search queries. Schema tells search engines what the data on your site means and not just what it says, which is valuable.

You can add schema markup to your page with the help of schema.org. Schema.org includes code markers for your site that tells the major search engines how to interpret the data on your website and what to do with it. For an eCommerce site, try using product markup in schema.org. This gives you properties to add to your product pages like name, image, description, aggregate rating, and offers.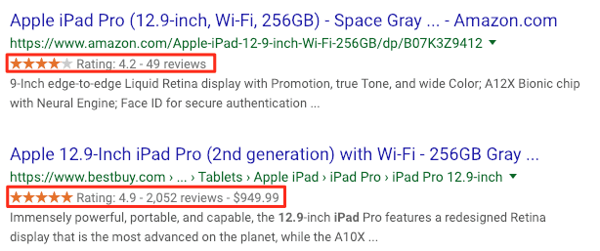 eCommerce Content Marketing
Content marketing is the perfect way to increase brand awareness and SEO for your eCommerce site. Every business needs some form of a blog or other content marketing to stay relevant these days. And with a blog, you're more likely to have other companies or websites link to your site (creating backlinks), which is a double win.
Develop some niche-relevant content that fits in with the products you sell and is "link-worthy." Try using tools like Hubspot's Blog Ideas Generator to find content ideas that work with your product/company niche. Enter related keywords to your products, like "women's tops" and receive blog idea results like "Women's Tops: Expectations vs. Reality," and "The Next Big Thing in Women's Tops."
In your content, slip in internal links to other pages for which you want to increase traffic. The links need to be relevant pages for this to work.
Enhancing SEO for Your eCommerce Site
Following a few simple SEO best practices is a great way to increase web traffic, brand awareness, and revenue. Try researching keywords, optimizing your on-page SEO, and developing unique and valuable content. Most eCommerce sites fall short of genuine search engine optimization, so working through this guide is a fantastic way to stand out from the pack and snag more sales.