Ampd Ads for Amazon Sellers

Massively boost organic sales by driving Google traffic to
your
Amazon product pages
Spike

your

Best Seller

rank and dominate your category
Amazon increases your Seller Rank when you drive external traffic to your product pages, resulting in sustainable organic sales.
Get up to

$150 Google Ads credit

for new accounts
Through Ampd, you can easily set up your first Google Ads account in a few clicks and you get up to $150 in free advertising.
Launch a campaign in

less than 5 minutes
It's easy to advertise on Google through Ampd. Set your budget, create your ad and launch in minutes.
*For accounts spending less than $2,000 USD/month on Ampd campaigns
Why Google Ads are Important
More than three billion searches are made on Google every single day, and many of those users are actively shopping for products like yours.
You don't want to miss out on getting in front of those potential customers—and Ampd can help! We offer the fastest, simplest, and most effective way to get started with Google Ads and improve your visibility on Amazon.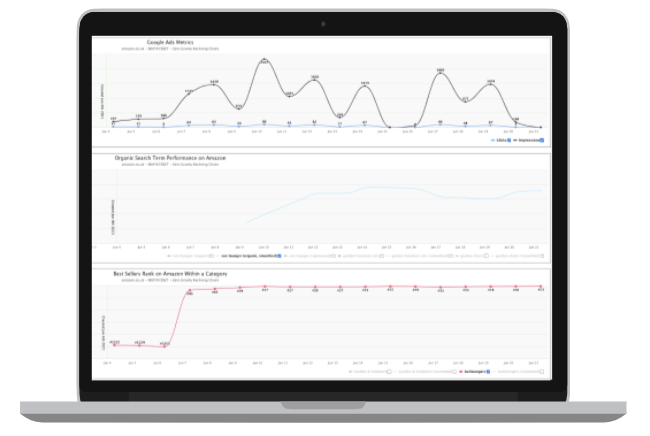 With Ampd, this Seller Rank went from #1,222 to #13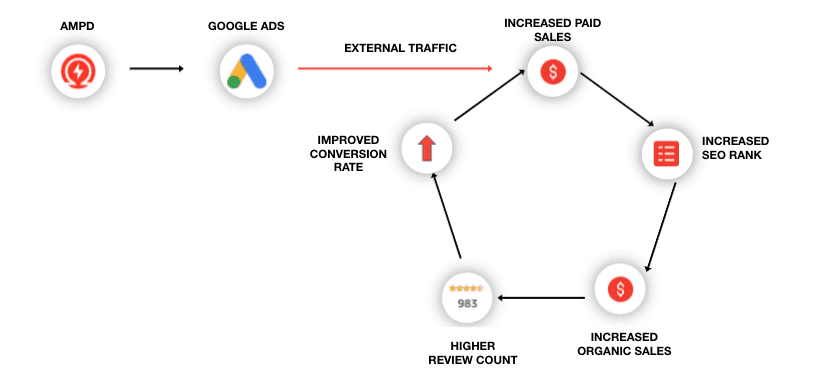 Amazon's Five Factors to increase Best Seller and product rank
Why It's Effective
External traffic is a key driver in Amazon's algorithm, and you can improve your Amazon Best Seller Rank and Product Rank by funneling Google's search users to your product listing through Google ads. (In addition to getting outright sales!)
Seller Rank Climb
Over the first 90 days, Seller Rank will fluctuate daily but stair-step up and to the right.
BRB Program
Amazon Attribution users can earn a bonus averaging 10% of product sales driven by Ampd.
Organic Sales
Sellers will experience the flywheel effect with the increase of organic sales.
Our Customers
90% of users see their Seller Rank increase after using Ampd to send Google traffic to their Amazon products.