Yardline
Drive more Amazon Sales with Google Ads
Tap into the 5.6 billion search per day on Google with full attribution and up to $500 Google Ad credit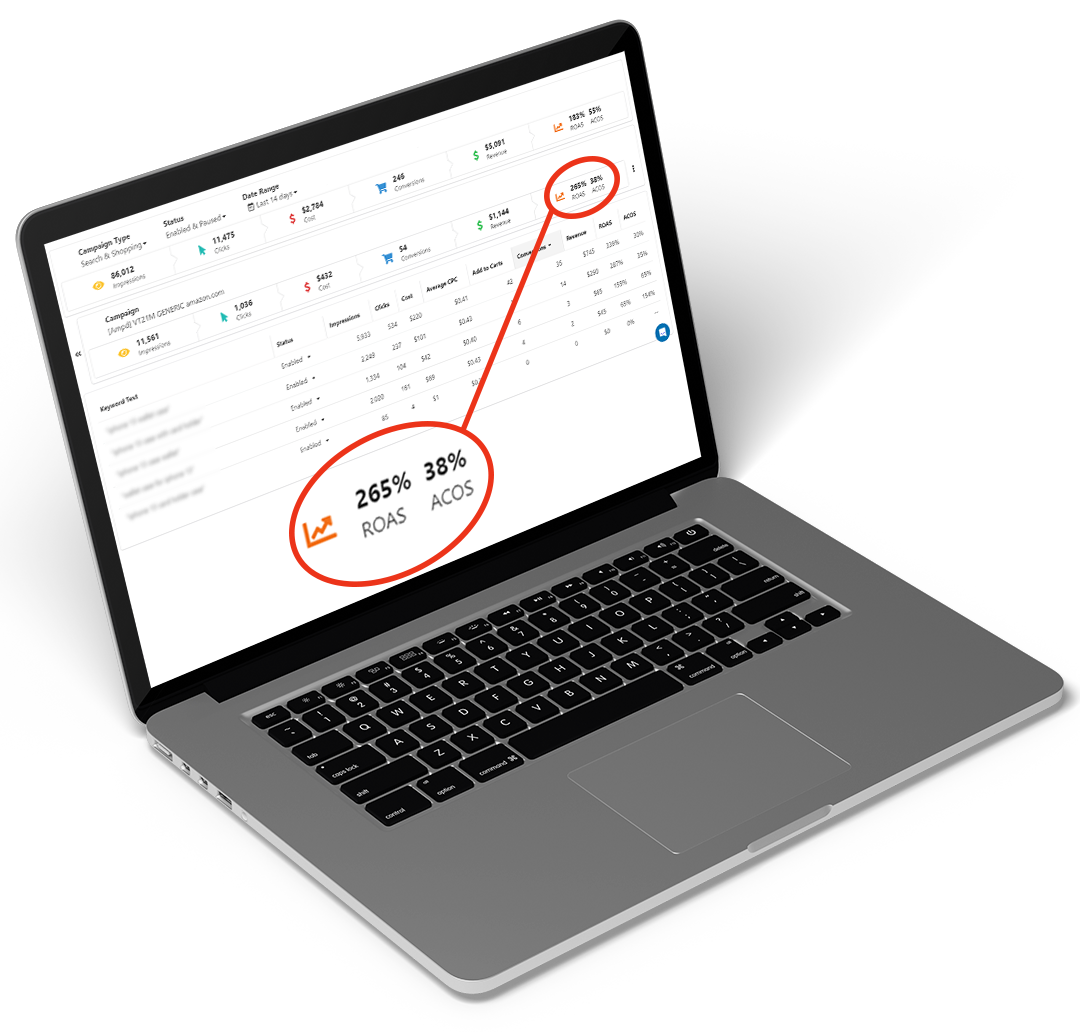 Maximize your budget with keyword level ACOS insights
For the first time in history, Ampd's new technology lets Sellers optimize Google Ad campaigns using keyword level "add to cart" and "conversion" data from Amazon! Simply pause the keywords that aren't performing well and focus your budget on the keywords that are.
Ampd

is the fastest, simplest, and most effective way to launch and maximize Google Ads for your ecommerce business

Launch ads
Easily launch Google Ads with Ampd and avoid the hassle of the Google Ads platform

Automated Attribution
One-click Attribution set up that provides enhanced tracking and keyword level data

Made simple
Data science engine packed into a simple UI for profitable campaign management
Automated Amazon Attribution
with automated Google Ads

Keyword conversion data
Ampd reveals which keywords are converting allowing customers to improve ACOS

Attribution across ASINS
Ampd sets tracking across all ASIN variations to account for all sales

Brand Referral Bonus $$$
Brand owners can earn a bonus averaging 10% of product sales from external/Google traffic
Why Google Ads?
Increase monthly revenue (new channel of customers)
10% Brand Referral Bonus - are you getting your Bonus?
Maximize Amazon's preference for external traffic
Rank management with external traffic
Why Ampd?
Amazon's Premier Attribution Partner
Automated full Amazon Attribution with keyword level data
Up to $500 Google Ad credit for each brand
Google's impact on your Amazon sales, together in one view
Contact Us
Interested in teaming up with Ampd?
Ampd empowers the leading Amazon sellers to unlock Google Ads and drive growth to their brands. Reach out to us today to learn how we work with Amazon sellers to find new customers and drive Amazon rank.