Get Found on Google
Google is often the first stop for consumers looking to find new products and services, bringing substantial revenue opportunities for your ecommerce business through paid advertising.
Your customers are looking for you. Can they find you?
Common Challenges with Google Ads
Starting and managing ad campaigns is complex and time-consuming. Even the most tenured Google Ads users struggle to navigate the platform's growing features, interpret ad quality, and maximize results.
All too often, we've heard about the perceived challenges with paid advertising:
"It's too complex to figure out."
"It's going to take too much time to see results."


"It's all guesswork unless you're a professional."

"It's difficult to manage."

"It's too challenging to grow."

"It's too easy to burn through my budget."
So we at Ampd set out to help.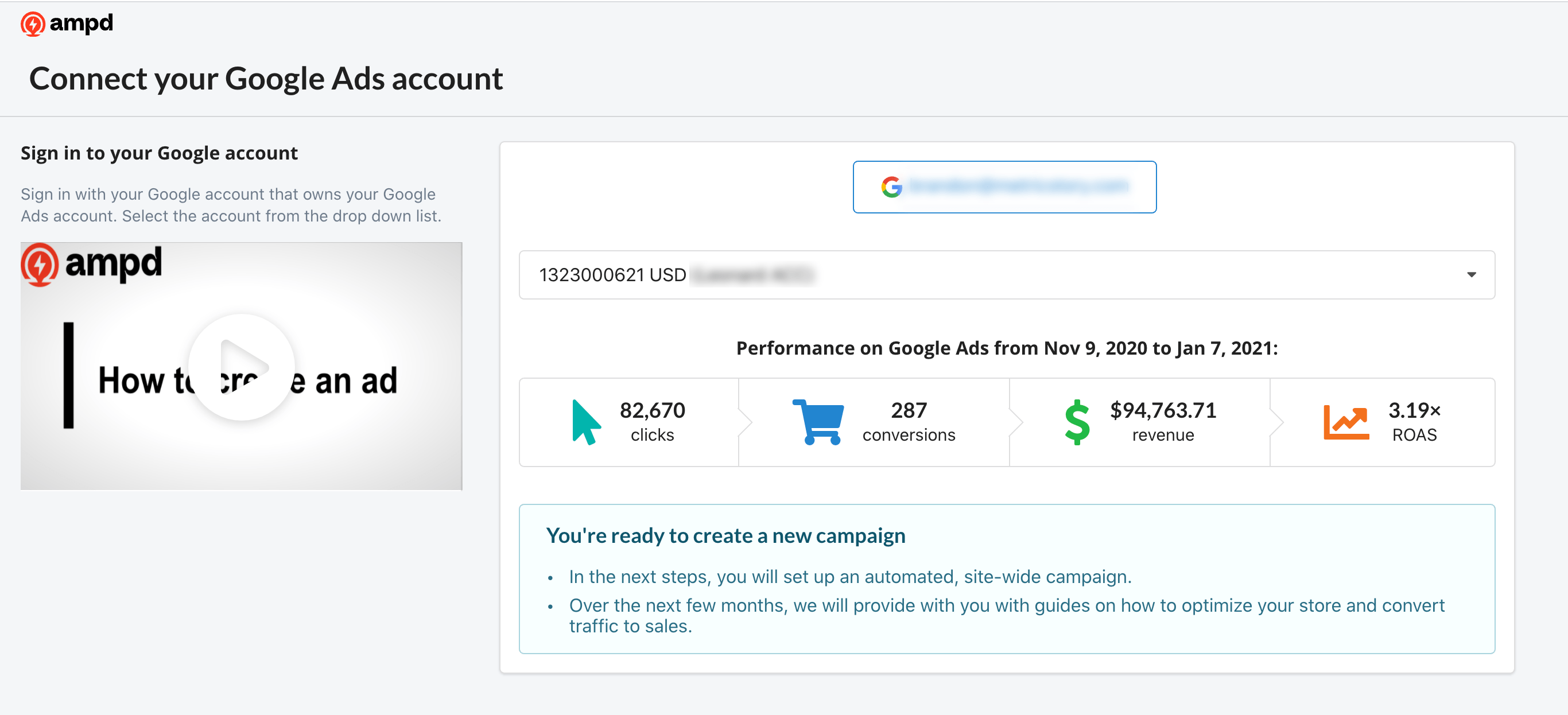 What is Ampd?
Ampd is the ad automation toolkit that amplifies efforts and ad dollars. We offer the fastest, simplest, and most effective way to launch, manage, and maximize Google Ads.
We're the tool of choice for thousands of leading companies and agencies, counting Shopify and BigCommerce among our major partners while holding both Google Accelerate and Premier Partner statuses due to our deep and extensive tie-ins with Google Ad technology.
How does Ampd directly help my business?
Simply put, our artificial intelligence scores and suggests the most effective recommendations to amplify paid advertising through a simple, easy-to-use platform that delivers the results without the extra hours, which means you can:
Eliminate 90%+ of the effort of launching and managing ads.
Ampd is a turnkey system that automates every step of the process from keyword research, to launching campaigns, to managing and growing a thriving online business.

Start amplifying your ad efforts in as fast as one day.
Increase the effectiveness of Google ads in minutes instead of hours. It's the easier and faster way to get online traffic and sales. Drive traffic and sales to an entire website or specific products with no ramp-up time.

Pay only when it works.
The ads placed on Google, and Ampd's fees, are pay-per-click, so payment is made only when customers click on ads.

Grow with a toolkit that grows with you.
With more ads comes more complexity, but Ampd's simple, fast interface makes it easy to manage many groups at once, access data-driven recommendations, refine the ad strategy, and execute to amplify results.
Ready to get started?
Amplify efforts, amplify business