The new, breakthrough Amazon change for attribution!

Historically, Google Ads traffic to an Amazon product page would have competitor product ads listed at the top. This presented an obstacle to really push Google Ads traffic to your product page, as after all your hard work you might still lose the customer to a competitor's ads. Ampd discovered this problem 7-months ago when their data science engine identified that mobile traffic was converting better than desktop traffic. Ampd determined through multiple A/B tests that screen sizes on mobile devices did not result in competitor ads at the top of the page, thereby increasing conversion rates for those customer-seller experiences. This is when we brought the concern on behalf of sellers worldwide and for the Ampd platform, to Amazon.
We provided this feedback to our partners on the Amazon Attribution team and worked with them to start making a case for change. Through rigorous testing we explored new ways to update the top of page widget so it works best for both the customer and the seller. We are now excited to share the results of our collaboration and hard work together over the last 6-months, which we tested today to confirm its go-live status.
Protect your brand with no competition
Amazon has officially made a structural change to the Amazon catalog to now only show your brand's products when your Google Ads traffic is sent there with proper Amazon Attribution tags. That's right, exclusively YOUR BRAND! This means your customers will not see your competitors at the top of your product page when they come from your Google Ads but instead see "Other popular products from your brand". This change will last at least through January 2023. We are hopeful to help make it a permanent change, as together with our customers and the Amazon Attribution team, we demonstrate the win-win-win for customers, sellers, and Amazon. If you are a brand seller you hopefully received this email below that highlights all the changes we worked for with the Amazon teams.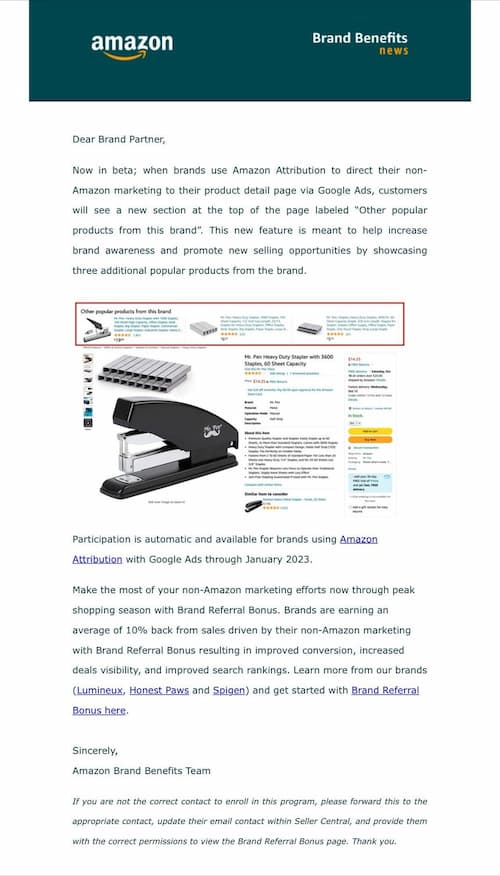 Now instead of losing clicks to competitors' you can highlight more of your products on any of your pages. This creates a much better landing page and shopping experience for your qualified Google Ads customers as they get to focus solely on your products.
Furthermore, now is a better time than ever to start advertising with Google Ads to your customers, as that traffic specifically will be insulated and your brand protected from competitors.
Below is an example of an ice cube tray product page. A customer previously saw your top 3 competitors at the top of your product page. With this new change, any Google Ads traffic that is properly tagged with Amazon Attribution will now only feature YOUR products instead of your competitors products.

Watch a 1-min video demonstrating the new features!